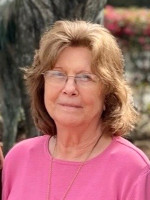 Elaine Bailey was born in Austell, Georgia. She has a Bachelor of Science degree in Education from the University of West Georgia. She retired in 2004 from West Georgia Technical College where she had worked as an Adult Education instructor.
She is married to John Bailey and they have two children, David and Sueann, a son-in-law, Kevin and two grandchildren, Genna and Jake. She and John have lived in Douglas County since 1970.
Elaine's love of literature and writing began as a child. She is an avid reader with a great interest in history and genealogy, having traced her lines back to the 1700s. She has self-published Genealogy Quest: Tracing Your Family Tree and two poetry books, Pompadour and Pearls: A Patchwork of Poetry and Buttermilk Clouds. She was named poet laureate by Douglas Poets in Focus in 1991 and was nominated best poetry author by the Georgia Writers, Inc in 1995. Her poetry was published in West Georgia College's Eclectic. In 2010 Elaine published the very successful Explosion in Villa Rica and in 2011, a full length novel, Tracks. In 2013-2014 she assisted her husband, John, in his researching and publishing of The History of Dark Corner Campbell County, Georgia. In 2015 Elaine co-authored the based-on-true-events book, Draketown Tragedy, with Patricia Lamar Mullinax. : In 2020 Elaine and her husband, John, co-authored Hart Town Environs A Chronicle of People, Places and Events 1825 - 1900. Elaine is a historian and the Publicity/Public Relations Chairman of the Villa Rica Area Historical Society, Inc.
---
The StarNews' "Who's Carroll?" long running series (20+ years) highlights those people who affect the quality of life in Carroll County. So, athough Elaine Bailey is not a current resident of Carroll County, her positive impact on our community is notable. Both her maternal grandparents, Lou and Lewis Kittle, and her paternal grandparents, Herman and Jewel Bolden, were from Villa Rica. Elaine lived in Carroll County until age seven, and, not going too far afield, she and her husband, John, have lived in our next-door-neighbor county of Douglas for fifty-seven years. (The City of Villa Rica lays in both Carroll and Douglas counties.)
In 2016, when Elaine heard that the 1840s' Hart Plantation House, located on First Baptist Church property, was destined for demolition, she started the Villa Rica Area Historical Society, along with fifteen or so charter members. She served as the first president of the society whose main focus for the first several years was to raise $37,000 needed to help relocate the house. She and another member wrote two grants, and the rest of the money came from donations. The historic home was moved 1400 feet from the original location, but is still on the plantation site. This group also raised enough money to stabilize the front porch.
Bailey and Sarah Pitts put together a calendar of Historical Homes and Structures annually for the Villa Rica Area Historical Society to sell. They collect old photos, photoshop them, and have some colorized. The photos come from individuals who have them in family albums or among family genealogy. Each October the calendar is displayed on the society's Facebook site. They are mailed to the individuals who purchase them through the post office box. Elaine and Sarah have collected almost enough information for the 2021 calendar.
As a historian of the VRAHS, Elaine posts information on these structures with each month's page. She is an administrator of the Facebook sites: Historic Hart House, Historic Marchman House, Villa Rica Area Historical Society- boasting over 400 members--and Draketown Tragedy. She is also a contributor on FB to Villa Rica Archives which has 1500 members.
History and its preservation are important to Elaine. "In Proverbs 3:10 it says, 'Remove not the old landmark which thy fathers have set...'," she explained. "Our history is being lost. Once it's gone, it's gone forever."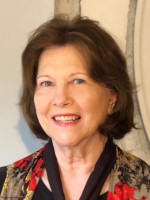 Bailey is a published author, and expresses her love of history through her books, which are based on local areas and events. To read them is to feel that one is an integral part of the community. She brings to life the people and the emotions they experienced. In 2009, she wrote Explosion in Villa Rica, which told the story of the December 5, 1957 gas explosion that ripped through downtown Villa Rica, killing twelve and injuring thirty-four.
Memories of that day had been handed down, but Elaine was the first to chronicle the event for the historical record. She had heard her husband John talk about the explosion-he was working at Berry's Pharmacy, the site of the explosion, at the time.
"He smelled the gas leak the night before the explosion; he was on the scene immediately when the explosion happened the next day," she stated. Elaine sets the stage and puts events in perspective from the viewpoints of those who lived through it.
While writing the book, Elaine said, "This is not an easy task, but there are times I feel that I have some help from 'up there', as many times things just fell into place, as if I had help. People thanked me for being able to see more of the whole picture of what happened-not just the tragedy. More than a few, with tears in their eyes, thanked me for writing the book and said they felt a kind of closure." This book has become a treasured keepsake for innumerable families in the county.
In 2016, Elaine and Patricia Mullinax wrote Draketown Tragedy, about the murder of Alice Stewart, the pastor's wife, when she attempted to stop 20 moonshiners from abducting and horsewhipping her husband for tearing down their stills. She was the first woman martyr of prohibition.
"I've had contact with those in the movie industry and am hopeful for a movie based on this book," stated Elaine.
In 2015, she collaborated with her hus- band John on The History of Dark Corner. The story takes place in Campbell County and tells of the first pioneers to the area. John had researched and collected data for years. When Elaine began to assemble the informa- tion into book form, she asked where the people were. "You can't have a town without people," she told him. So, John put her in charge of finding out who live in Dark Corner, beginning in 1832 and in developing that part of the book, which adds great value to it. The two are currently working on a new book: Hart Town: A Chronicle of the Area, Places, and Events. They hope it will be pub- lished later this year.
Elaine is the publisher of Lillium Press Historical Books: lilliumpress.net.
She earned a Bachelor of Science Degree in education from the University of West Georgia. She was head of the Adult Education Department, which includes the GED Program, English as a Second Language, Civics, and a Literacy Program, for fifteen years at West Central Technical College. She and John have two children, a son-in-law, and two grandchildren.
Elaine plays the piano beautifully and taught piano lessons for fifteen years. She studies history and genealogy and has trace hers and her husband's lines back for several generations. The community is grateful to Elaine for her passion in keeping alive the history of their families and their community for posterity.
- Prissi Sullivan, StarNews, March, 15th 2020