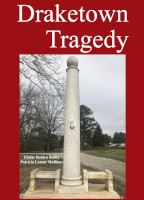 It's a haunting reminder, the obelisk in Draketown, of things of the past that have never been widely known, or even solved.
Two local "history detectives" have returned with their new book, "Draketown Tragedy," a Prohibition-era that recounts murder, conspiracies, moonshiners, the Ku Klux Klan and the Roaring Twenties.
Elaine Bailey, author of "Explosion in Villa Rica," teams up with Patricia Lamar Mullinax, author of "In the Line of Fire," to delve into the history of the monument in Draketown that is dedicated to Alice "Wildie" Adams Stewart.
Draketown is in Haralson County, near Highways 113 and 120, straddling both Carroll and Paulding counties.
The story began some residents say, in 1907 when Georgia voted that whiskey was to be illegal, years before Prohibition.
Temperance movements were common in the North where Massachusetts passed such a law in 1838, more or less a citation, banning the sale of alcohol drinks in less than 15-gallon quantities. But that law was repealed two years later. The first state prohibition law was enacted by Maine in 1846 and several other states followed suit before the Civil War.
The ratification of the 18th Amendment to the U.S.Constitution in the early 20th century became known as the Volstead Act but the legislation was difficult to enforce, and west Georgia, especially Haralson County, was ripe for the illegal production, transportation and sale of liquor, known as bootlegging.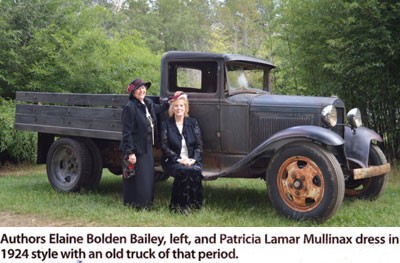 Trisha Mullinax was a 10-year-old in 1957 when she first encountered the 15-foot, white marble obelisk in Draketown. The image was instilled in her mind for 30 years when Arreda Bingham Denton happened to stroll into Hair Villa Salon in Villa Rica where Mullinax was employed.
Denton had so many stories about the 1920s in Haralson County, specifically Draketown, and the Stewart story, that she and her new hairstylist became close friends and the tale of sadness that Denton carried all those years was finally transferred to another person.
The Villa Rica Salon eventually became a small library for many people who had heard of the stories, and more people showed up every week to listen to Denton's history lessons.
After Denton died in 1994, Mullinax began jotting down her remembrances of the tales spun by Denton about Draketown in the 1920s.
Twenty years later Mullinax joined forces with history author Elaine Bolden Bailey and the two spent two additional years poring through libraries, archives, courthouses, interviews with relatives near and far, and anyone who would agree to explain what actually occurred in 1924 in Draketown.
"Many relatives of those individuals still residing in Georgia were hesitant to provide any oral histories and archival information ,"Bailey said. "Since the events leading up to the murder of Rev. Robert Stewart's wife, Alice Stewart, and the aftermath, some of the heirs were very reluctant to discuss anything that may point to a relative being a bootlegger, indicted for certain crimes, including homicide, and those who were witnesses and testified otherwise."
The most promising data, other than Denton's validations, came about when one of Rev. Stewart's daughters, Lorene, years later contacted Julie Colombini, Alice Stewart's great-granddaughter . who was living in Japan. Lorene Stewart Butler, as a birthday present to Colombini, chronicled the history of her mother's fate and the monument erected by the KKK in Draketown.
Why was the Klan involved, and who killed Alice Stewart? Why were the felons, murderers and moonshiners not convicted of any crimes, except for three people who, in federal court, received five years only?
- Geoff Parker, The Times Georgian
---
Where is the moonshiner's automobile with the large hole in the side, shot there by Reverend Robert Stewart 91 years ago in Draketown? Why did the moonshiners attempt to abduct the pastor? Why did they shoot the pastor's wife, Alice, twice - once in the back when she lay face down?
These questions are answered in the new book, Draketown Tragedy, by local co-authors Elaine Bolden Bailey and Patricia Lamar Mullinax.
"Arreda Bingham told me what happened in Draketown when she came into the beauty shop where I worked in 1989. For almost 30 years I've wanted to write this story," explained Trisha Mullinax.
Trisha shared this story of what happened in 1924 to Alice Stewart in Draketown with her friend, Elaine Bailey, who had written a novel Tracks; and, the non-fiction The Explosion in Villa Rica. Elaine was drawn in and for the next year and half these two local ladies researched Draketown history and interviewed historians and old timers in Haralson and adjacent counties.
"For the first six months of research, we came up with more questions than answers," Bailey said. "Where were the court records? Why were the newspapers from 1924 through 1926 missing from the county libraries?"
When interviewing the older folk, they were told, "Oh, we don't talk about that. That was a long time ago." That's what their parents had told them when they questioned why the white marble, 15 foot obelisk stood in the center of Draketown.
For 91 years, people have wondered about the monument and why it was there. Despite an inscription on the side, questions remain.
"Our breakthrough came when we found Alice Stewart's granddaughters who gave us the oral history and shared amazing photographs," related Bailey.
"Our greatest dilemma in writing this book was .telling the story of the moonshiners, explained Bailey. "Ten men were arrested. Some were released immediately; five went to trial. No one was convicted for the murder of Alice Stewart. No one paid for her death.
"Even though the newspapers printed the names of the accused," Bailey continued, "we changed the names since descendants still live in the surrounding counties. Changing some of the names means the book is 'fiction based on fact.'"
Meet the authors, who will be reading excerpts from the book at the book signing for Draketown Tragedy, on March 12, 2016 from 1:00 - 3:00 p.m. at the New Georgia Public Library, 94 Ridge Road, Dallas, Georgia 30157.
- Elaine Bailey, The Dallas New Era, Feburary, 24th 2016