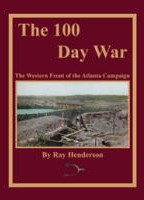 When it comes to local history, most people know that Douglasville and Douglas County were formed during just after the Civil War as part of what was called the New South movement. But while Douglas County was still part of the former Campbell County during the infamous Battle of Atlanta, there is a rich history from the Civil War that exists in present-day Douglas County and surrounding areas.
While that history hasn't had a lot of attention in the past, historian Ray Henderson spent 16 years collecting information for his new book, titled "The 100 Day War: The Western Front of the Atlanta Campaign" Henderson, an Iowa native who has lived in Douglasville for 30 years, will give a talk and sign copies of his book this Sunday, Nov. 10, from 1 to 4 p.m. at the Pine Mountain Gold Museum at 1881 Stockmar Road in Villa Rica. "Every square inch of this county was visited by both sides during the Civil War because, of course, they were always foraging," Henderson said. But the troops had plenty more business than just foraging in the current-day Douglas County, and Henderson covers it all in his book.
The Western Front in the title actually refers to an area from Powder Springs around to Newnan and all points west including Campbellton - the Campbell County seat - Villa Rica, Dallas and many places that would have been in today's Douglas County. Henderson said troops came up Bright Star Road in October 1864 after the fall of Atlanta. Confederate Gen. John Bell Hood spent the night at Pray's Mill Church on Oct. 1, 1864, Henderson said. "Hood decided he was going to come in behind Sherman and make things miserable for him," said Henderson.
The Confederate Army had its headquarters in an area known as Dark Corner in today's Winston area during the Battle of Allatoona. Henderson said exactly where Dark Corner was is still a mystery. He said he believes Dark Corner was around the area where Mann Road and Cedar Mountain Road come together.
Henderson said the book is really a "compendium" because it includes so much more than just narrative history. All of the official reports are included, along with situation maps and photos of many of the key players and pictures of artifacts found including buckles, bullets, shells and fragments. Henderson said he also has a pretty good idea of where the picket posts were, what roads were here during the Civil War and what types of activities went on. "That's what the book is for, so people can find these places," said Henderson.
He said he's gone down along the Chattahoochee River, where Campbellton, Sandtown and many other towns were back then and used a metal detector to find those picket posts and other sites in the book.
"Somebody with a rifle stood there and made sure 10,000 men weren't coming down the road behind them," Henderson said.
Perhaps the most visible sign of the Civil War in Douglas County today is the New Manchester Manufacturing Company mill ruins at Sweetwater Creek State Park. The mill was famously burned on orders from Gen. William Tecumseh Sherman. Henderson said the town of New Manchester had between 1,500-2,000 people during the war and had its own post office. He said more people might remember New Manchester if it had been a little bigger like Roswell, which also lost a mill during the war.
He said former U.S. Sen. Richard Russell's grandfather William J. Russell operated the mill at New Manchester. Senator Russell, Henderson said, was instrumental in creating Sweetwater Creek State Park. As far as I know, these are the only ruins left of the Civil War in the Atlanta Campaign," said Henderson.
Henderson delves into a lot of the whys of the war as it relates to the west side of Atlanta in his book.
"Why were the federals here? Why did they burn the factory? Why did the factory in Whitesburg not get burned and the one here in Campbell County get burned?," Henderson said. He said there's still a line of trenches on Sweetwater Creek opposite the Tributary subdivision. And he said there are Confederate and Union soldiers buried all over the county along with shell fragments and other subtle signs the war came through the area. He said he's heard that if you got to where Lee Road and Highway 92 meet and go back in the woods, there was supposedly an infantry camp there during the war.
"The federals would camp in the open," said Henderson. "They would never camp in the woods. That's where the confederates camped. They wouldn't go off the main roads because they were afraid. If they got caught by the confederates, if they weren't killed right away, they'd be harmed."
- Ron Daniel, The Douglas County Sentinel